The Turn Of The Century Electrotherapy Museum

http://www.electrotherapymuseum.com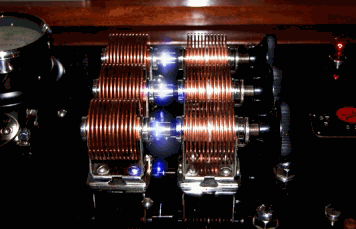 Featured Collector:
Darkerwaters
This collection is so impressive, I've decided to keep full size images of everything! No expense has been spared in restoring these machines to
better than new condition. I am sure they are the closest thing to visiting the original factories!



A warning of what you're about to see!


McIntosh Faradic Battery


Wappler "Ultra Violet Ray Oscillator". Wow!


Uranium Oxide Glass Electrodes. Wow! Again!


A few German Violet Rays. There's a few electrodes there too. Look at all of the variations! Germans must have more body parts?


Just beautiful! Who needs Geissler Tubes when you have top of the line Violet Ray electrodes?!


Ultrazone with Silvered Electrodes


Ultrasan, down to the bottle of pine oil!


The only twin pole that isn't rusted to no end!


The light bulb is to indicate current from a color chart - twin pole units didn't have meters, and this was the next best method.
In my opinion its actually more accurate than the meter!



I'd kill to find one of these sets.



Not as much as these though!




That's taking ozone to a whole new level!


Senator - Can't judge that box by its cover!


Rekord Violet Ray.


Rayzilla (!)


Yep, I'd kill for these two! Look at the Fischer logos!


Medikus Ozone Generators


A Rose by any other name....


Horus


Head clamp...


Pristine Fischer Diathermy


Look at the finish on everything. Its amazing!


Incredible FIscher Ozone!


Silvered electrodes!


Electrophoric Catephoresis Electrode


Just amazing!


Dynelectron - the spark gap is superb!


Plenty of options to choose from!


Corbus Electrode. Now I'll have to dig out the blueprints for this one!


Helios Violet Ray


Flemming Faradic Battery


The nicest Signal battery I've never seen!


Beautiful Aloe single pole


Aeona Radium Electrodes.


The infamous Actintic Ray Violet Ray electrode that noone can find!


A couple of suitcases. Bare essentials! Not the shockproof handle in the front middle.

An excellent collection!
Thanks so much for letting us share these photos!








(C) Jeff Behary, 2008