Long Island, NY: 6-8 October 2006
Tesla Wardenclyffe Project And Friends Of Science East
Tesla Conference And 150th Anniversary of Nikola Tesla's Birth

Happy Birthday Nikola Tesla!
Thank You to Gary Peterson and Jane Alcorn for an incredible event.
Thank You to Jim Hardesty and Bill Wysock for such incredible company and lectures.
Thank You to Jim and Ken Corum for a body of work and knowledge like no other in delivering the truth of Tesla's experiments.
Many Thanks to Graham and Nellie, Nikola Skulic, Michael Riversong, and our other friends that made a perfect weekend.

Several photos were forwarded from Jane Alcorn and Michael Riversong.

Jeff and Rita

Click here to see our video introduction:
http://www.electrotherapymuseum.com/LongIsland06.wmv

Click here to see our presentation in PDF format: Tesla's Tesla Coils
http://www.electrotherapymuseum.com/LongIsland/LongIsland06.pdf
(The original lecture contains 30 video clips depicted by photos with dual red borders)




Graham, Bill Wysock, Gary Peterson, Jim Hardesty, Gary Johnson, Michael Riversong, Jeff Behary



Jim, Judy, Graham, Nellie, Jane, Bill, Gary, Francis, Jeff



PV Scientific Tesla Coil




PV Scientific Sectorless Static Machine




Jim Hardesty preparing a massive induction coil




PV Scientific Induction Coil - An amazing construction feat!





Jim telling the history of the Leyden Jar



Jim with Ion Motor and Franklin Bells




Sectorless Spark!


And more!


Jim charging the discs


Tesla Coil discharges


Arcs-And-Sparks and their creator...



Jim with some hair raising experiments


Bill watching some static discharges


4 - 6" sparks from Jim's Induction Coil


Hertz Resonator


Jim demonstrating Franklin Bells


Jim demonstrating the Gold Leaf Electroscope


Jim discharging a Leyden Jar


Bill Wysock after making some adjustments to the neutralizers


Both Jim H. and Bill W. deliver incredible lectures.



Two Masters Of Lightning and incredible people - Bill Wysock and Jim Hardesty



Jim talking about Bill's motor



Bill Wysock and his incredible piece of Tesla history!



A Front View Of Bill's Tesla Induction Motor




Rear view of Induction Motor




A side view of Bill Wysock's Tesla Induction Motor



Rita - Ouch!


Rita connected to Jim's Sectorless Influence Machine




Graham doing the jitter bug and discharging Leyden Jars




Natasa Drakula - Hair Raising Experiment




At The Stanford White Building




Stanford White Building...No Trespassing




Jim and Bill having some humorous fun with the No Trespassing sign



The most valuable Tesla site in existence, behind a barbed wire fence!




Jim and Judy at the site



Jeff drinking Urquell, Jim playing the Harp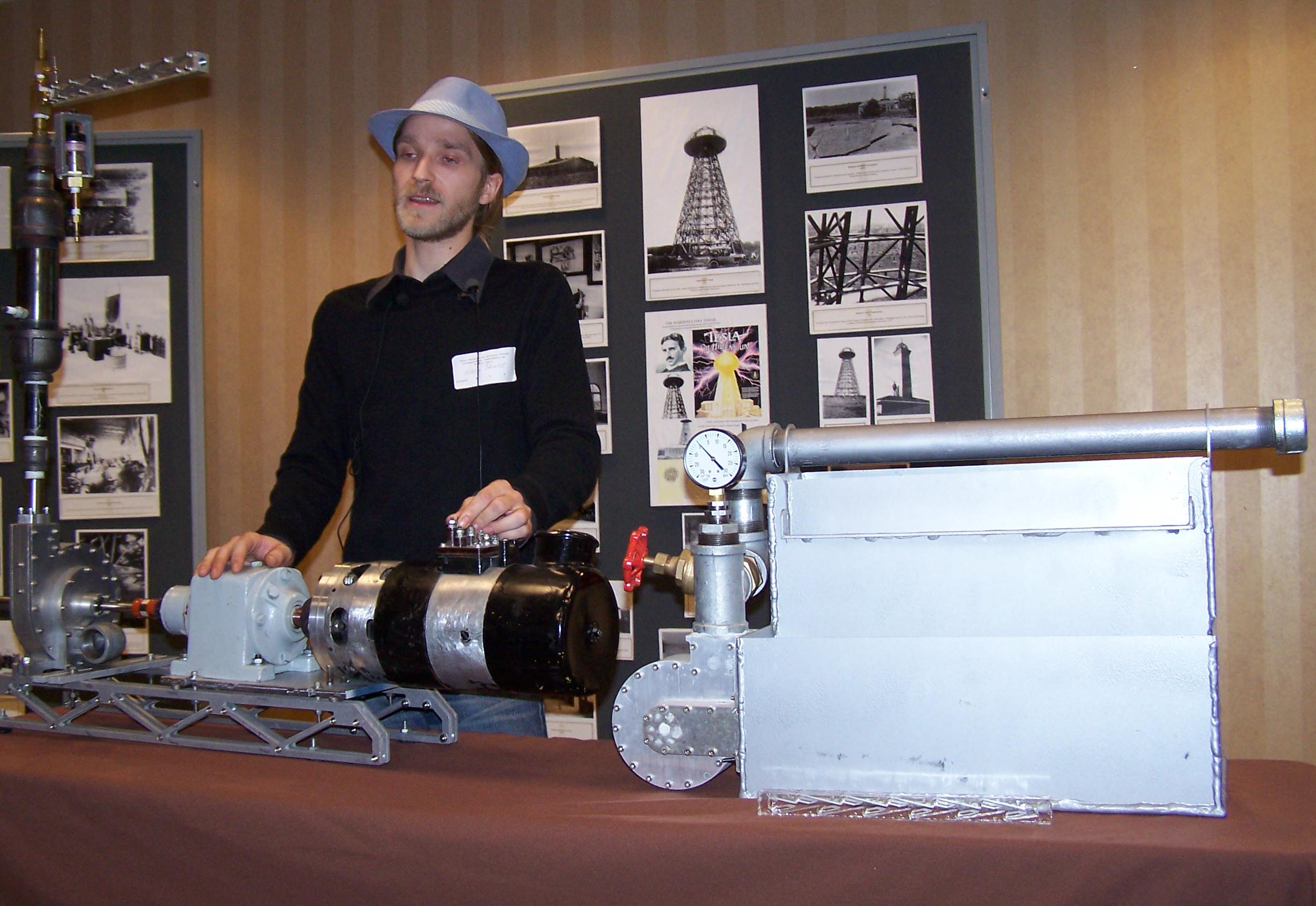 Nikola Škulic demonstrating Tesla Turbine Technologies



Gary Johnson and Gary Peterson



Jane got this wonderful photo she entitled "3 Conspirators" :)
Jim Corum, Jim Hardesty, Kenneth Corum - 3 very important people!



Rita and I heading off to the airport after the lecture.